The employee experience is the single most important element to your business and its success.
Between the after-effects of the pandemic, rampant burnout, talent shortages, political strife, and employee disengagement, workers are quitting and switching their jobs faster than we've ever seen. HR is facing a retention crisis. Turnover rates are high and hiring rates are low, which means the role of Human Resources is more important than ever.
An organization's Chief People Officer is now a strategic hire instead of an operational one, reporting directly to the CEO and taking charge of their greatest asset: their people. After all, retention and productivity are both inextricably linked to a team's effort.
In addition to working to retain your staff, you have to keep them engaged and happy. Even if turnover is low for your company, but the workplace (and your business outcomes) could be damaged by displeased, unmotivated employees. A recent Gallup poll found that about 14 percent of American employees can be considered "actively disengaged", and that the economic impact of such disengagement is estimated to be about $550 billion per year.
On the other hand, people who identify as "happy" with their jobs are 20% more productive, and highly engaged workplaces are 21% more profitable with 31% less turnover. The question is not, "should we prioritize our team's happiness," it's, "In how many ways can we prioritize our team's happiness?"
It's not as simple as just raising pay and providing great benefits (even though that's an excellent start). The true path to a satisfied workplace is through mastering the aspects of the workplace that your team wants: flexibility, socialization, company culture & mission, managerial relationships, growth opportunities, recognition, and diversity. That path is the Employee Experience: the prioritization of the employee's needs first in order to promote engagement, improve retention, boost satisfaction, and foster culture that will in turn lead to business success.
With all the different elements to perfecting the Employee Experience and all the different ways leaders prioritize them, it can get confusing to determine where you should start. That's why we at HelloTeam put together this infographic to help show why the Experience is crucial, who's developing it, and how to master it.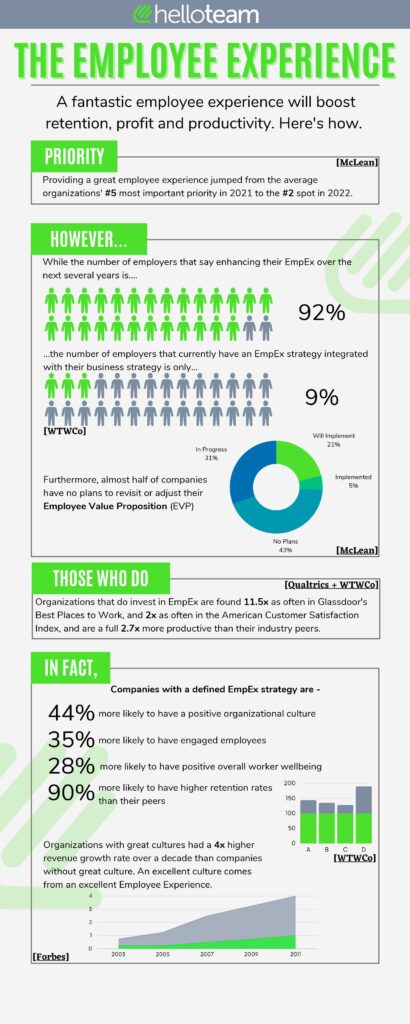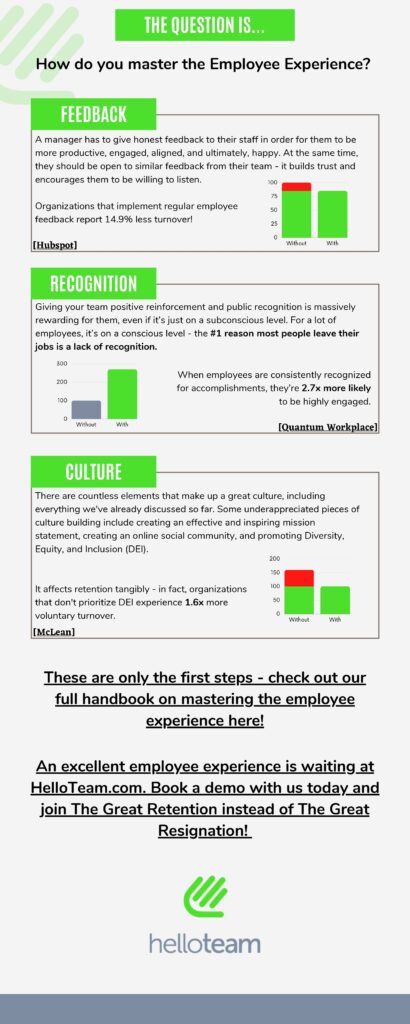 To download this infographic as a PDF, click here. For even more on this topic, download "How to Craft the Perfect Employee Experience" today!